*This blog post was written by guesthouse owner Liz Delmont and originally appeared on the blog of her Craighall Park-based guesthouse Liz at Lancaster. We enjoyed reading it so much as it echoed so many of our thoughts about this sometimes difficult-to-love city (combine winter, load shedding and water shut-offs – we are all much more forgiving in summer), we simply had to share! Follow the Liz at Lancaster blog online at lizatlancaster.co.za/blog for more.
There is a lot to moan about with Jozi: its failing infrastructure; potholes you could lose a giraffe in, crumbling pavements; burst waterpipes abound; traffic lights out of order; and like the rest of the country devastating unemployment figures. But the people have an energy, openness and get-up-and-go attitude that gives Jozi its energy and soul. And we have the best weather in the world.  So like Julie Andrews … here are some of my favourite things about this city which we love and love to hate. – Liz Delmont, Liza at Lancaster Guesthouse.
1. Love Jozi ​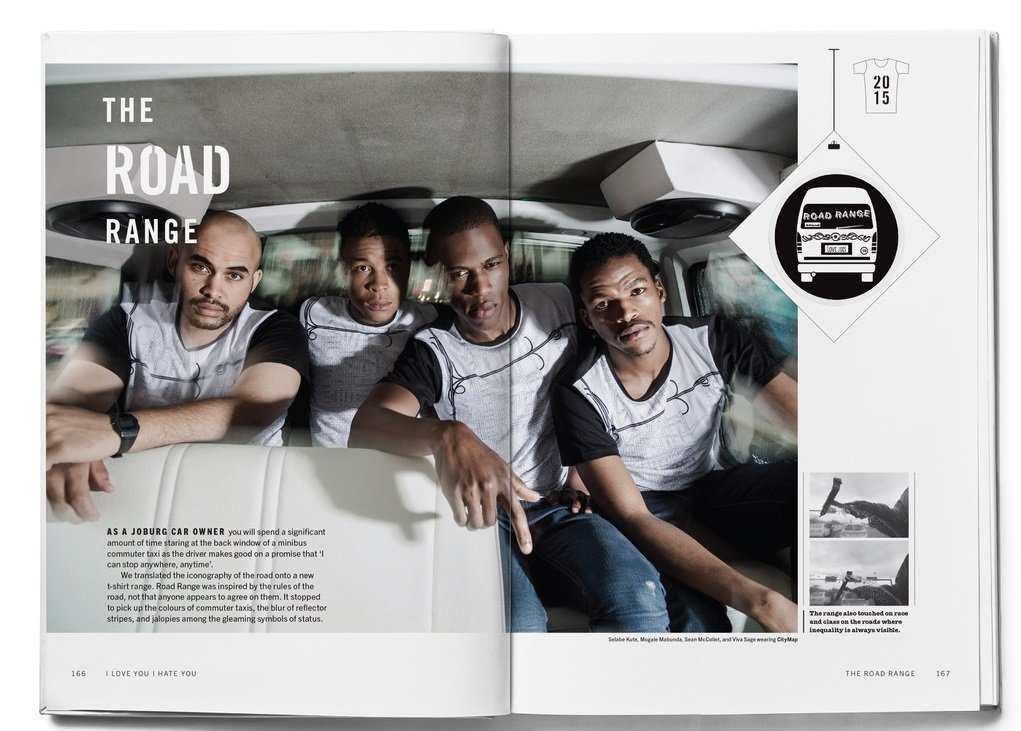 Number 1 is the Love Jozi brand with its fab T-shirts, tote bags, posters and plant holders. Visit them at 44 Stanley – another favourite … got in two for the price of one here. (*Ed: note that Love Jozi now operates online only, but 44 Stanley is still a Joburg favourite worth visiting!)
The essential visitor's guide to Joburg, launched in Feb 2014.  Its on-line website posts daily events, write-ups on specific neighbourhoods, restaurant and exhibition reviews and general news in its weekly digital newsletter. The best go-to guide of all that's happening in the city. (* She's talking about us here – blush]
3. Dramatic skies
Joburg skies are sublime. Yes there can be a grey haze of pollution but we also have blood red sunsets; banks of blindingly white cumulus clouds, and Tiepolo-blue winter skies.
4. Nirox Sculpture Park
Nirox is one of the most beautiful getaways. In less than an hour you are transported to a different world of rolling lawns, waterways, rippling ponds and the Winter Sculpture Exhibition. Only open over the weekends there is also an entrance fee and you are not allowed to take any of your food or drink in, so it does work out pricey. But it is food for the soul.   
5. Our service industry
If one builds up good relationships with service providers (which I have) one has access to amazing service. Early on Sunday morning 1st May, with Monday a public holiday, we had a problem with our gate. Not fun with a very full house of guests all needing access in and out of the property at all hours. Shaun came within three hours and sorted the problem out. Just one example of many.
6. Jozi's public art
During the late 1990s and into the 2000s the city and the Johannesburg Development Agency commissioned some amazing public artworks. William Kentridge and Gerhard Marx's Firewalker on the north edge of Joburg Central is one such example.
7. Jozi-ites – love the can-do, get-on and connecting humour
In traffic with huge 4x4s and expensive luxury cars all jostling aggressively to get an extra car ahead, the occasional disinterested surly shop assistant, and having to be aware of cellphone snatching as you wait for an Uber, one can get despondent about Joburgers. But generally there is a generosity, an openness, a humour and a willingness to engage which many find very surprising. Priscilla, a recent first-time to SA visitor, who stayed at Liz at Lancaster, was struck by the difference between the realities of actual interactions with people and the press that Johannesburg gets.
8. The changes in season and all the varying colours and weather they bring
9. Local shops along the suburban streets
I'll do anything to avoid a large enclosed and confusing mall…. one of my many aversions. Give me local stores idiosyncratically strung along a local suburban strip. Linden has some wonderful shops as does Parkhurst, Parkview and Melville
I love the rural unpretentious feel – with stables, veggie gardens, a wonderful plant and flower nursery, a winery, Delta Cafe with its amazing deck and child and dog friendly restaurant. All within walking distance of Liz at Lancaster right here in Craighall Park.